Arrival
St Moritz lies in the Upper Engadine valley, almost exactly in the middle of the Zurich/ Milan/ Munich triangle. You can reach your holiday destination comfortably with the Rhaetian Railway (RhB), over the well-constructed road network or by air.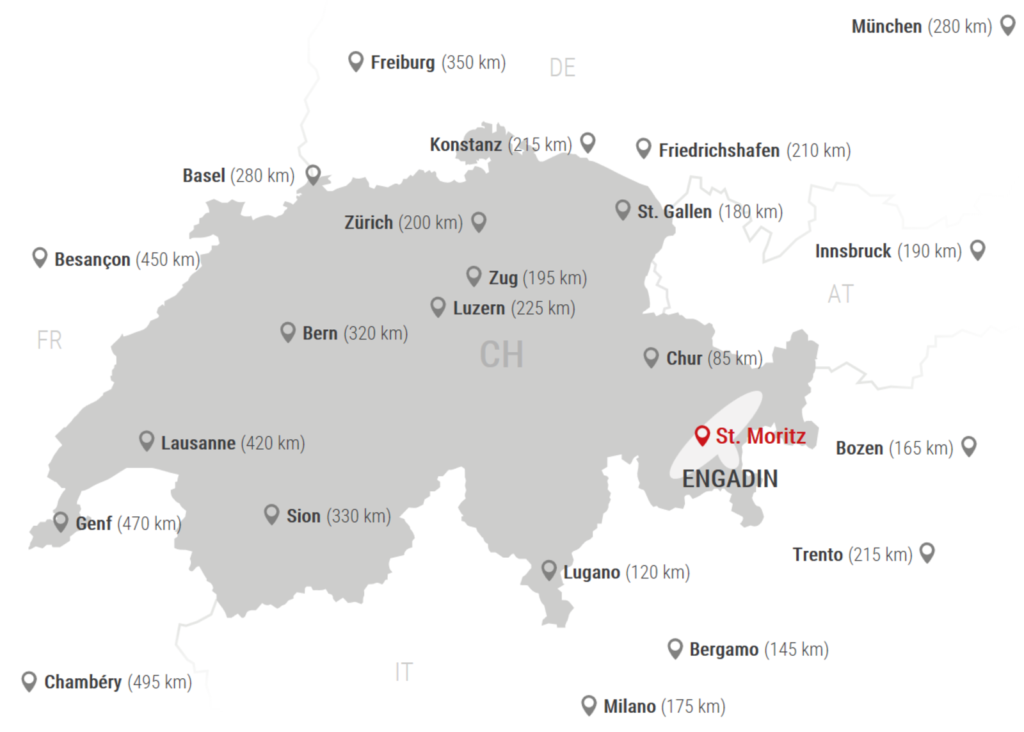 By car:
From the Zürich region and St Margrethen (Lake Constance, southern Germany, Austria): take the A3/A13 motorways towards Bellinzona; leave at the Thusis exit, then take the national road through Tiefencastel over the Julier Pass to Silvaplana and St Moritz. Alternatively, in the summer, from Thusis via Filisur and Bergün over the Albula Pass (closed in winter) to Bever and then St. Moritz; in winter the car can be conveyed from Thusis to Samedan on the RhB car transporter.
From the Chiasso region (southern Switzerland and Italy), take the A2/A13 motorways over the San Bernardino Pass towards Chur, taking the Thusis exit, then follow the directions above.
An alternative route from southern Switzerland is to take the main road from Lugano to Menaggio (on Lake Como), then Chiavenna, over the Maloja Pass to St. Moritz.
From the upper Italy region (Merano) take the Mustair Valley and the Ofen Pass to Zernez and St. Moritz.
From Austria (Innsbruck): take the motorway to Feldkirch, exit at Landeck and take the main road N 27 via Martina and Zernez to St. Moritz.
Approximate road distances and journey times
Zürich to St Moritz: 200 km (125 miles), 3 hrs
Milan to St Moritz: 200 km (125 miles), 3 hrs
Munich to St Moritz: 360 km (221 miles), 4 hrs
Basel to St Moritz: 290 km (180 miles), 4 hrs
Train:
The stretch from Zürich to Chur is on the Swiss National Railways (SBB) network.  From Chur the journey continues on the narrow-gauge RhB with its modern, fast trains through twisting tunnels and over vertiginous viaducts.  The 400 km (250 miles) journey from Zürich to St Moritz takes approximately 3 hrs 20 min (3hrs 45 min from Zürich Airport).
Timetable information for both RhB and SBB can be obtained from the RhB in St Moritz, tel: +41 (0) 81 28 56 56; fax: +41 (0) 81 288 56 31; alternatively, the websites are:
RHB Bahnhof St.Moritz
Tel. +41 (0)81 288 56 40
Fax +41 (0) 81 288 56 31
Plane:
The international airports at Zürich, Basel and Milan (Linate, Malpensa and Bergamo) have worldwide connections; the local, regional airport at Samedan has no scheduled service but flights can be arranged through www.engadin-airport.ch or Tel: +41 (0)81 851 08 51
Weather